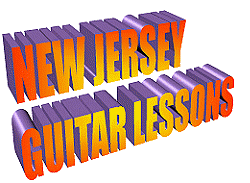 BLUES

ROCK

JAZZ

FUNK

COUNTRY
is offered by longtime New Jersey guitar teacher and performer, Tom Finger, with over 20 years experience as a northern New Jersey guitar instructor. The emphasis is on your particular goals, and the styles and types of music you love.
Northern New Jersey Guitar lessons are held in Tom's private Cedar Grove studio in northern New Jersey. Located minutes from Willowbrook Mall, near the junction of Routes 80, 46, 23, and the border of Passaic and Essex Counties.
DO ANY OF THESE SITUATIONS APPLY TO YOU?
You're a total beginner. You really wish you could play, but don't know where to start. From time to time, you have thought about checking out some northern NJ guitar lessons.

You can play some basic open chords and a few simple songs, but you want to advance.

You have a busy life. You're realistic about the limited free time you can devote to the guitar, or to actual New Jersey music lessons.

You don't intend to reach the perform-on-stage level. But you would love to play songs with friends at the backyard party.

Your chord knowledge is pretty good. You can do your barre chords and power chords on guitar, but that's as far as you've gotten. You have no clue why certain chords sound good followed by certain others.

You can run a few major scales and pentatonic scales. But you want to be able to play fluid lead guitar that you create on the spot as you jam with friends.

You're a decent rock guitar player, but you want to explore more sophisticated playing, and also solo comfortably over the entire neck through any chord changes. You wonder if there are any northern New Jersey guitar teachers who can help.

You're tired of feeling limited because you avoided learning any theory, yet you don't want to bog down with learning more than you need from old-fashioned music lessons or guitar classes.

You're frustrated by all the method books and DVDs, with guitar instruction that becomes too confusing and doesn't get you playing like you had hoped. So, eventually, you always abandon them.

You've always known, without guitar lessons, you've never had a real system for understanding how to unlock the guitar and really play it.

You're bored to tears with what you can do on guitar!
HELP IS AVAILABLE AT
for northern New Jersey Guitar Lessons
anytime to:
ACOUSTIC FINGERSTYLE GUITAR

LEAD GUITAR

PICK TECHNIQUE

CHORD THEORY

EAR TRAINING